Issue 09
August 31st, 2018
Spilled Milk Magazine
Flail, Little Girl
You are further from your skin than we are from each other and all I can do is throw myself at you. Like a ragdoll is like a whip in a little girl's hand. Flail, little girl, your tea set, your mother, the other dolls lined up at the head of your bed. Snap the petals off the flowers on your bedspread. Bloody the dancer twirling in your jewelry box. Then beg penance from your cat, beg her for claws and fangs and hot infection. All I can do is throw myself at you.
You are further from your skin than we are from each other and I'm doing my best to find you. I am an admiral and I stand with my fleet in command. Our heading: warm, but it's hard to follow in this stillness. You are a body caught in a rope, whipped by wind, dragged along a crag, and I'm coming for you. What I mean is, there's no blinking away the salt in your eyes, so calcify it bleach blue. Grow shells along your spine and out the ends of your fingers. Sharpen your tongue against the stones in your mouth. Shred the rock at your back and rock the ships loose with the grace of myth. Pull your hand away wet with blood, that's how I'll find you. What I mean is, now, there's enough blood between us.
You are further from your skin than we are from each other, but let's be practical. In a galaxy of 300,000 light-years, two black holes are only 3,000 light-years apart. I'm told that's not too far. I'm told they can't escape each other from that distance. And the infrared dust emission is over one trillion times more luminous than the Sun. What I mean is—we are two ultraluminous infrared galaxies swallowed whole like mice in the stomach of a snake coiled around Ophiuchus. Somewhere along the way we coil and claw and rupture pink. Somewhere we collapsed. What I mean is I can't look directly at you without seeing only you everywhere.
I waited until after dark. I dragged you along. I stapled laminated Lost signs to telephone poles, taped them to shop windows. I dragged you along. Then I waited. We waited. You let me wait with you.
A Thousand Broken Eggshells
My rosary means nothing to me until my mother tells me it's a whip.

Nearly a thousand broken eggshells under my knees.
A hundred candles under strangers' faces.
A prayer to each one.

O Lord, thou art the beast under my whip.
O Lord, watch me part the sweat on your back like the sea.
O Biblical es bíblico como la fresh-cut poblano
growing in grassy clay where the pets are buried.

There are bones in my teeth after each meal.
A prayer to each one.

O Lord, esperame. We want vinegar, we want wine, grapes, seeds,
We want las vides wrapped around nuestros nudillos—
knuckles only touched by metal, vines hard in the dry air—

and her breasts like a vineyard in the dark, fill the air in the room.

Stomach, liver, lungs, do los monstruos tienen mas de uno?
Hidden rooms, behind bookshelves, under trap doors, intestines
winding aimlessly toward a lost sun. O, Lord, te perdí.

Una oración en cada cuarto before I leave. O, Lord, I grind
grapeseed in my teeth before I leave. O, I close my eyes
in the dark before I leave. Lord, O, give me clay to pray over
and I will walk with eggshells in my knees forever.
Danika Isdahl is a poet and designer from Louisville Kentucky. She works as the Production Manager at Sarabande Books. Her work can be found in Sonora Review, Pacifica Review, elsewhere magazine, and Rabbit Catastrophe Review.
i take off my collarbone my undertaker collaborative under-
taking so my head can dye into muscle then ink for now i concur i haven't been there at all
for i can still imagine cherubim on shelves putti like bookends the busts of peared women
baroque in medias res heaven and hell spotlight shadow and affect she
is therianthropic skin and fingernails feline or bird the castration of his head golden
rings of ovaries the wings of pegasus christ
and wreaths nailed to spinning white
trees
Annie Blake is an Australian writer and divergent thinker. She is a wife and mother of five children. She started school as an EAL student. She was raised and continues to live in a multicultural and industrial location in the West of Melbourne. Her research aims to exfoliate branches of psychoanalysis and metaphysics. She is currently focusing on in medias res and arthouse writing. She enjoys exploring symbology and the surreal and phantasmagorical nature of dreams. She is a member of the C G Jung Society of Melbourne and Existentialist Society in Melbourne. You can visit her on her website and on Facebook.
Yumnia Duarte is a visual artist living and working in Bahía de Banderas, Mexico. Her research through the practice of drawing, part of conceiving the use of the line as a method of materialization of spatial experience through the abstraction of both physical and emotional dimensions. Visit her website and her Instagram to see more of her work.
A Curative Spell
I wanted all my violence to be soft/I want all my violence to be soft/all future violence will be soft. Not another smashed skull. No more viscera. There are guns that don't fire. Don't forget this is supposed to be a spell. There is blood, sometimes there is blood. There are gums, teeth, bottoms of feet. Things are sweetly taken apart, cleaned with silver-cloth, and put back together, less tarnished. Tatlin's Tower, if it were to be built, takes only the first step. The guns that don't fire must be filigreed, not rifles but small hand pistols used only in plays and crimes of passion re-enacted. You shoot your lover (bang bang) they hit the ground (bang bang), blood blossoms out from their chest like a carnation and they let a single tear run down their cheek. They sit up and tell you that one was really good. The next time you play, your baby shoots you, an exterminating angel in Victoria's Secret wings and Saint Laurent. Elsewhere, a girl in velvet boots and high stockings reads from her iPhone notes as she slides a thin handled dagger into my stomach. Later, she'll wash me off in the bathtub and put the knife back in the box. Lipstick baby, stuck out in Tucson, must climb up Tatlin's Tower in a corset to read my poetry into the lower atmosphere. When they reach the third stanza I open the intricate silver box and somewhere, a paper cut sutures shut. By the fourth stanza, an unseen Paula Modersohn-Becker painting appears in my bedroom. Simultaneously, Paula appears on my couch in a silk shirt and slacks, age 32, her hair up. At the fifth, all barren mines become plentiful, but no one knows to check them. The Amazon river basin curls back into surrounding towns. The population of gray whales doubles. At the sixth, hands become softer, knees softer, elbows softer, knuckles uncrack and things unhurt. They will be up there reading for days, weeks at the most.
Hours Ago in a Forest Like This One
Watch All
lapisloserly
23 hrs ago
[Crazy On You by Heart plays in the background]
a long dark highway curve, snow catching in the headlights like moths in an evening blue sky so velvet and close it's like being inside something, dirty slush piled up on the shoulder, a halting zoom on the driver, the edges of her face lo-fi singing, a slow movement to two more in the backseat, downy and clucking chickens in their laps, one girltongue stuck out to the camera
Jess, the moon!
a jerky pan to the tree sprinkled horizon line, the moon coming up a heavy white blur
oooh I love her
lapisloserly
23 hrs ago
[captioned: provisions]
a picked over hostess cupcake display and a gape of red tile - white neons that read DAIRY SODA BEER in a cold halo over a girl in a million layers of denim and plaid, cradling two bags of hot cheetos and a liter of orange crush
lapisloserly
22 hrs ago
[sticker reading 29 degrees Fahrenheit]
cell phone flashlights and a heavy yellow handheld ricochet light beams across frozen ground and gray green lichen - boots crunching on a snowy trail half stomped flat, a laugh that careens off into the branches, three girls carrying squirmy, blanketed bundles
lapisloserly
21 hrs ago
[captioned: @the_rhea and her baby]
bug eyed girl in the dark forest with a long, unforgiving knife
lapisloserly 21hr
[captioned: bby light my fire 😍]
flames flickering on a round hot face, a girl with a stick in her hand and a hat crammed over two black braids, the crumble of fire turning logs into embers, the hiss of the wind
hows it coming?
from offscreen, a shriek, the hushed fussing of birds
not too bad she pokes the fire, opens up a simmer of sparks
lapisloserly
18 hrs ago
three bundled blurs backlit by roaring flames, a bonfire large enough to walk into, the night even larger
lapisloserly
11hrs ago
[Linger by The Cranberries plays quietly]
[captioned: home again home again]
in the backseat, a girl with long braids slouched into a flannel lap, wearing each other's clothes now, cheeks dirt streaked, a smudge of red across the bridge of her nose and chin, seatbelts stretched beyond their use
moonset, nothing out the frosted black window but more darkness
bumping further from the forest dirty fingernails and one palm up - on it, a long, red cut
babies asleep in the back
giggling
its late, turn the flash off, don't wake them
Mattie Ganson is a recent graduate of Beloit College living in Chicago. Her work has appeared in Midwestern Gothic. She can be found lounging artfully in bed or on Twitter as @mattieleighx.
Travel Tips to Kiev, Ukraine
Health Dangers and Annoyances:
· It is not safe to drink water from the tap. We recommend you do not do this. Our advice is to purchase bottled water. Tap water is fine for washing and brushing your teeth, though do not swallow.
· Driving in Kiev is unsafe for visitors and we recommend using the metro or taxis. Beware of taxi scams. When you check in to your hotel, ask the front desk to call a taxi for you to guarantee safe travel.
· Crimes against visitors is usually low – though beware of street scams walking throughout the city alone.
· Marriage scams are relatively common. Many foreign men are tempted to Ukraine by the prospect of a relationship with a beautiful Ukrainian woman. In most cases, these relationships begin online.
· Prostitution, although discreet, is found in hotel lobbies and bars. If a woman or man approaches you, asks for a drink, asks if you're here on business, they may be a prostitute.
· Perhaps if you are a middle-aged, heterosexual male, balding in the back, hair growing on your hips, your ears, having not found a woman who you connect with at work, or college, or in your career back home, and so you start looking online, because it's easier to talk to women there, easier to get to know someone, easier to feel close.
· So, when a woman approaches you in real life, at a hotel bar, you may find such a woman attractive. She tells you her name is Nadia, as she is wont to do because that is her job when she notices you alone, on vacation you say to her, you tell her you came to Ukraine to meet another woman, a woman you met online who you have come to meet, but have never met in person, though you've been sending her photos of yourself, some money, and you tell Nadia this and she nods and says Online is Scam. Lonely Americans! She smiles at you and you say, No, I've been talking to this woman for months, and Nadia says, You've talked on video? Live chat? And No, you say, so she laughs, throwing her hair back, and you notice her makeup is thick so when she laughs it crinkles, but you buy her another drink because it is nice to talk to someone real. When do you meet her? she asks, and you say, Tomorrow, and she asks Where? and you show her a slip of paper in Cyrillic lettering you don't understand, a note from the woman online, Yulia, with pixie hair, blonde, a nice smile and skin that looks smooth, fits tight on her clavicle like a rubber band. Nadia looks at the paper, folds it, and says, You want me to take you? And you say Yes, and she says, What room? And you say, Oh, no, I thought you meant to this place, and you hold up the paper to her, and she takes it again, folds it, puts it in her dress near her breast and whispers in your ear, giving you a light erection, a twinge, What room? And you take from the bar a pen and write it down on a napkin and Nadia says to you, See you. One hour.
· According to a UNAids report issued in 2012 around 230,000 people in Ukraine are living with HIV. This represents around .8 percent of the population, the highest rate in Europe. Approximately 43 percent of sex workers that use intravenous needles have HIV. Around 8.5 percent of prostitutes that don't inject drugs don't have HIV. If you should come across a prostitute like Nadia who does not inject drugs, you may still contract HIV by unsafe sex.
· You have brought condoms, though, in your luggage, planning on meeting Yulia, who said she could not wait to meet you in person, to make love to you in Kiev, where she would take you to the river, to the city center. She said she went to church, a Ukrainian Orthodox church, and so you bought her a necklace, a cross, 24 carat gold. You see the cross in its box as you dig for the condoms, and Nadia has taken off her dress, her bra, leaving her panties. She is not waiting for the condoms, and she takes you in her mouth and you try to stop her, but she has already taken control, already you are lost, already you are with Nadia, thinking of Yulia, and what's the difference, truly, you wonder, after you've finished fucking, if you've found love, you've found love, or sex, or whatever you've wanted, and you lie there, as Nadia dresses, flipping her hair over her back, her makeup had marked the sheets, and she tells you the price, and you ask her, What? And she is irate, gesturing for money, and you realize what's happened although you should have known, so you pay her, and you ask for your slip of paper, but it's gone, you can't find it, and Nadia leaves, so you get your laptop and go online, and you go to find Yulia, you email her, tell her you're in Kiev, that you lost the name of the address she gave you over the chat, that you're having trouble logging in, but she doesn't get back to you even though she usually gets back to you immediately.
· And so, you wait in your hotel room. You go for dinner. You come back, check your mail and: nothing.
· So, you brush your teeth, swishing the water in your cheeks, your eyes and shoulders heavy and sad, and you spit into the porcelain slick sink, remembering from this website not to swallow.
Acknowledgements: Some content borrowed from visitkievukraine.com
Kalani Pickhart was finalist for the Yemassee Journal's 2017 Fiction Writing Prizes, and her fiction has appeared in Superstition Review, The Harpoon Review, and Four Chambers Press.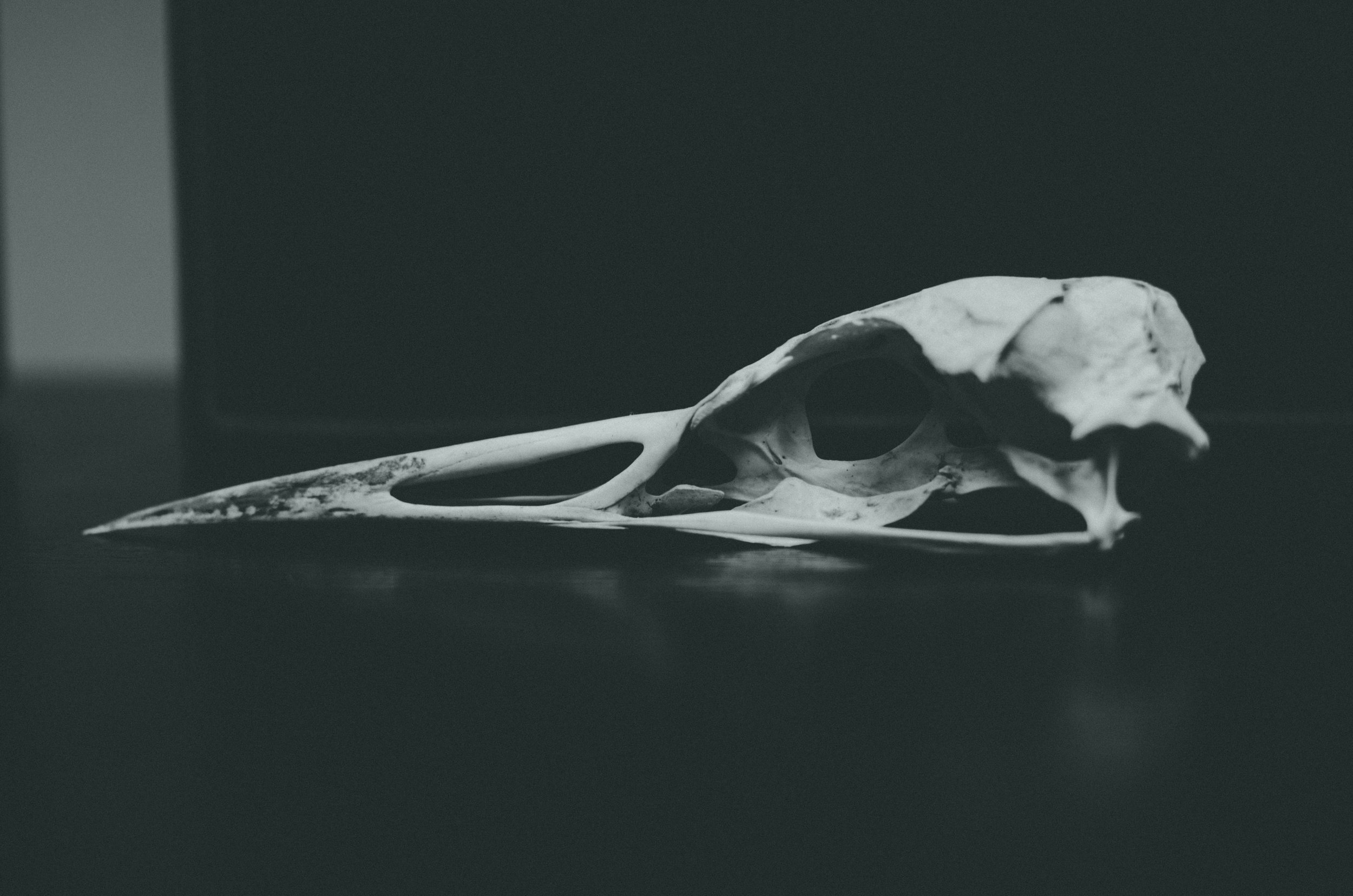 My marrow could fuse the bones of us back together.
But I was too bloodless
you said Not enough
accordion in my mind

to stretch our breathing
back into easy You said

what was left of us
scrap metal instead
of soldering something useful
A fuse to light us

until our laughter became
accordion again Our wounds
polished and begging You said

I was too bloodless
Not enough nourish to stretch us
back where we started
Clean-skinned and bright
 
You said you could Scrape
hear us our bones
still humming.
Natalie E. Illum is a poet, disability activist and singer living in Washington DC. She is a 2017 Jenny McKean Moore Poetry Fellow, and a recipient of an 2017 Artists Grant from the DC Arts Commission as well as a nonfiction editor for The Deaf Poets Society Literary Journal. She was a founded board member of mothertongue, a women's open mic that lasted 15 years. She used to compete on the National Poetry Slam circuit and was the 2013 Beltway Grand Slam Champion. Her work has appeared in various publications, and on NPR's Snap Judgement. Natalie has an MFA in creative writing from American University, and teaches workshops across the country. You can find her on Instagram and Twitter as @poetryrox, on her website, and as one half of All Her Muses, her music project. Natalie also enjoys Joni Mitchell, whiskey and giraffes.